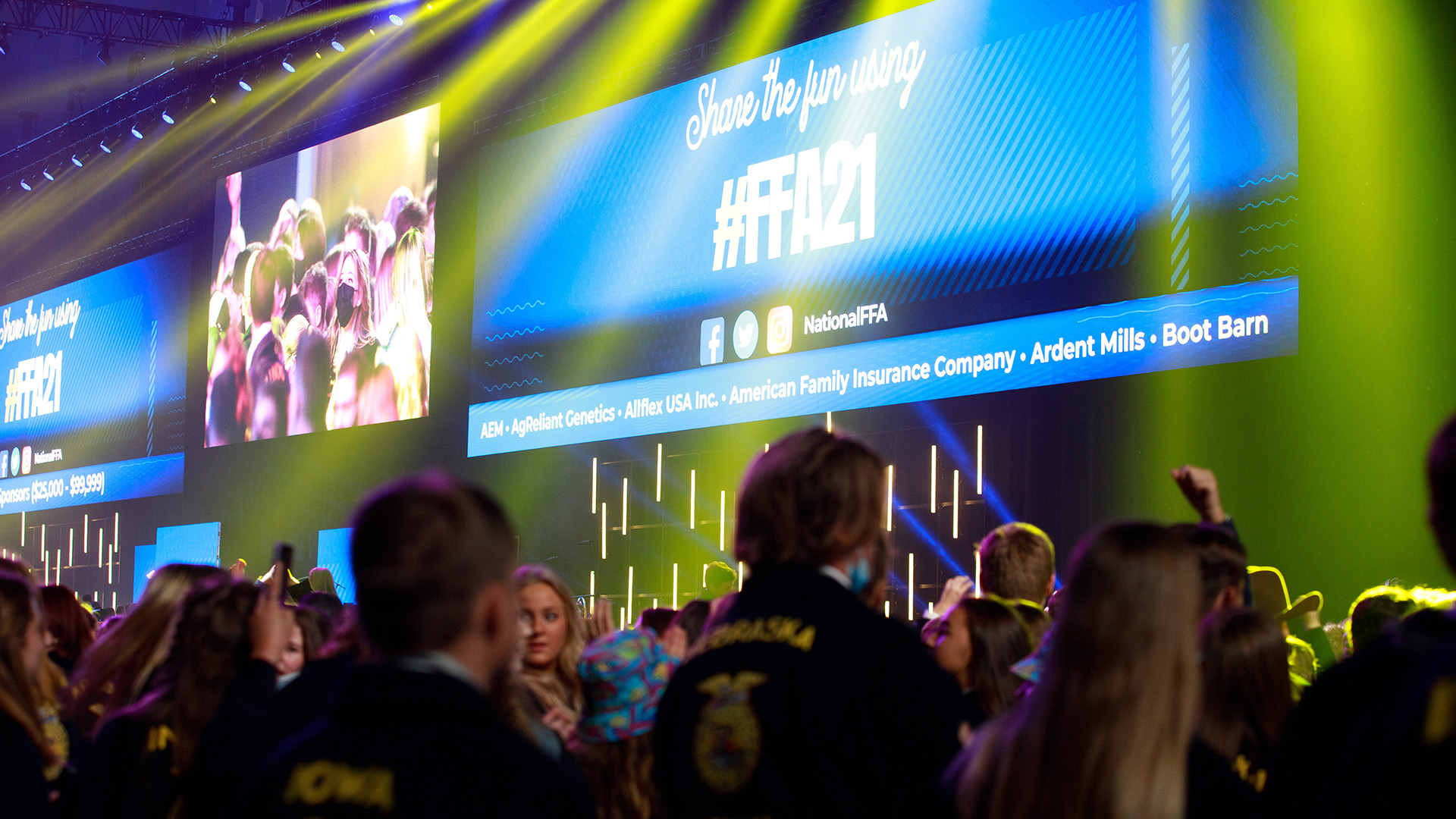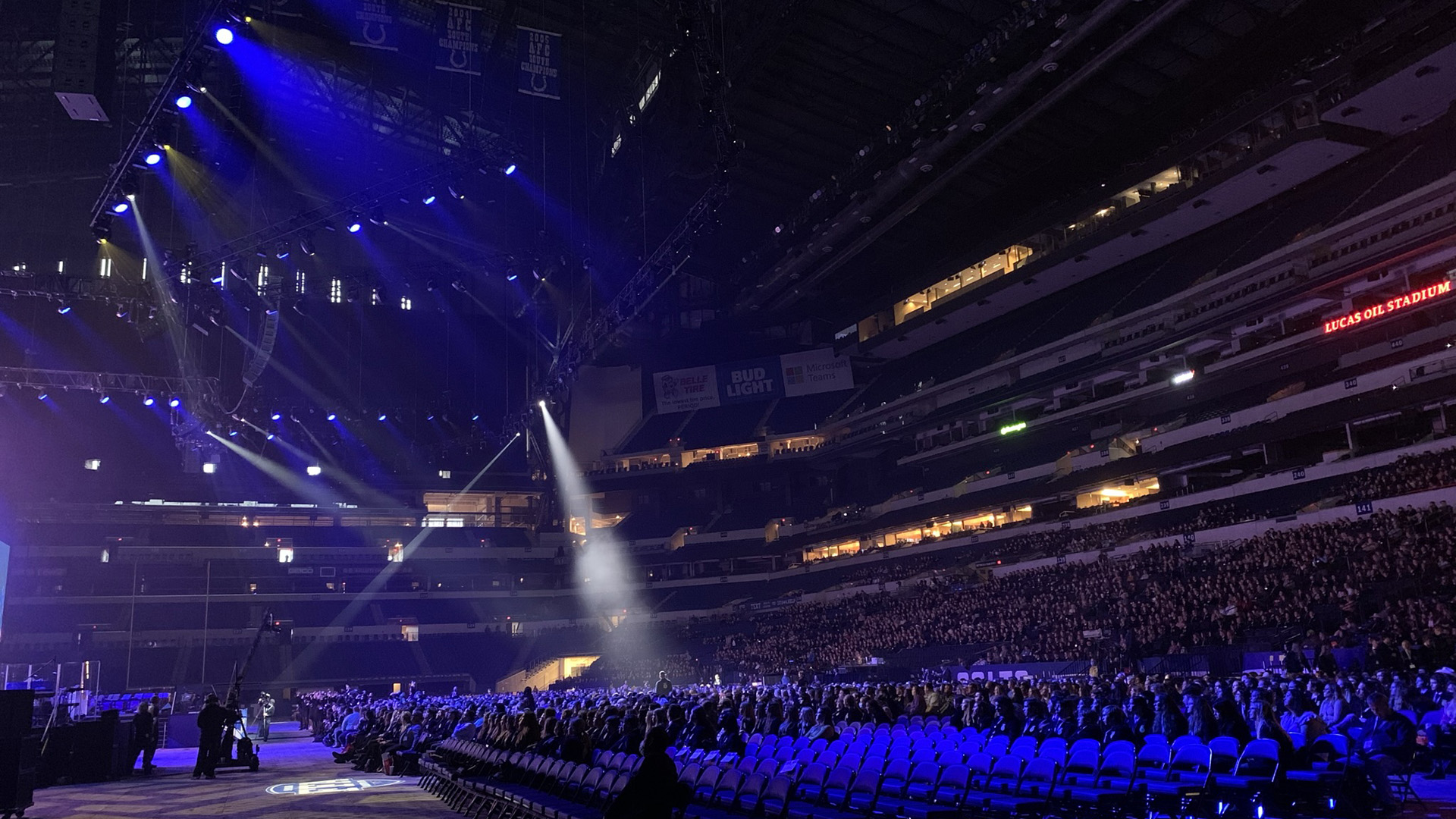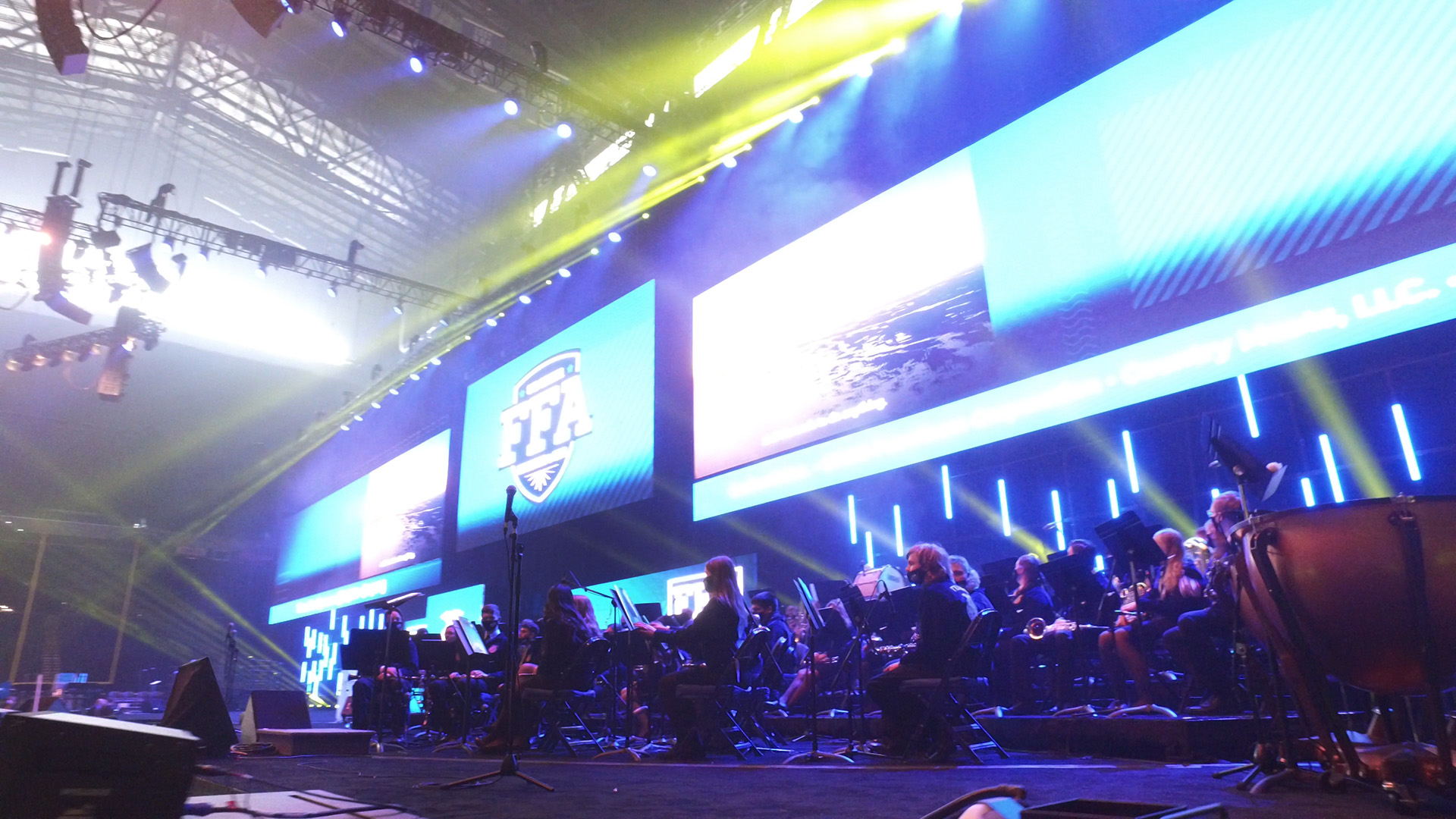 BARTHA PRODUCES SEAMLESS HYBRID STADIUM-SIZED EVENT FOR 2021 NATIONAL FFA CONVENTION & EXPO
For more than 20 years, Bartha has supported the National FFA Convention & Expo. This annual gathering of 60,000 young adults develops leadership skills through agricultural education.
The Challenge
After more than 90 years of live events, the National FFA delivered its annual convention virtually in 2020 in response to the COVID-19 pandemic. The National FFA planned a return to in-person sessions in 2021, with events also live-streamed to virtual attendees. They turned again to their partners at Bartha to manage staging and production.
This live + virtual hybrid approach presented unique planning and execution challenges, especially given the combination of large convention hall and stadium event spaces. Bartha's unrivaled project management ability, staging knowledge, and production expertise resulted in an outstanding event with incredible engagement.
The 94th annual event, held in October 2021 at the Indiana Convention Center & Lucas Oil Stadium (ICCLOS), required ample organization and logistics. From technical support to custom graphics and video packages and other staging needs, Bartha was there to produce an exceptional event.
A Hybrid Approach
Bartha began preparing with FFA organizers eight months in advance to ensure an engaging experience for the more than 50,000 live participants—and for thousands who would join virtually. Some virtual attendees even presented or accepted awards. Nearly all the presentations were live streamed to an online audience.
We coordinated with National FFA's information technology team and the ICCLOS team to coordinate feeds and embeds, pushing the video through fiber optic cabling at Lucas Oil Stadium and through a live feed on the FFA website, making this massive event seamless.
The event spanned five convention center ballrooms for numerous award ceremonies, multiple delegate sessions, various competitions, and 15 concurrent breakout sessions. It also included lively opening and closing sessions on the main field at Lucas Oil Stadium.
In total, the complex setup of a stadium stage and breakout ballrooms required nearly 30 screens, 40 Bartha personnel, and 20 trucks to haul our state-of-the-art equipment to Indiana to produce the convention. All in a day's work!
Tackling Unique Production Challenges
A set made of nearly five thousand square feet of high resolution LED panels was utilized to overcome the ambient light conditions for eight sessions.
Assisted in supporting the network system in order to stream and manage video of the concurrent events.
Patched in hundreds of virtual participants who joined live sessions to present and/or accept awards.
Developed a comprehensive cross-renting and labor contracting plan to manage COVID-19 supply chain issues.
Designed dozens of pre-production visual renderings to support planning, ensure preparedness, and instill client confidence.
Engaged Attendees, Delighted Clients
Attendees, both in-person and online, gave the event high marks. And as usual, the FFA team was pleased with the process and the outcomes. At the end of the four-day convention, both live and virtual attendees had enjoyed an invigorating, inspiring event.
Bartha has been the production partner for the National FFA Convention & Expo since 2000. From the beginning of our relationship to present day, they have continuously looked for ways to elevate the experience for our members, advisors and guests that attend. From the main stage production and branding the entire convention center to rock solid A/V setups for breakout sessions, delegate sessions, awards events and overflow viewing areas, year after year they bring their "A" game. That is the reason why it's been such a long-standing partnership. They become a part of your show, not just a service provider. I would recommend the Bartha team to anyone looking for a top-notch event production company. From concepting, creative, and development to the execution of the project, they rank as one the best I've worked with.
⁠— Mandy Hazlett, CMP, DES, Associate Director of Convention & Events
Conclusion
As the world continues to adjust to a new way of doing business, hybrid events have become the norm. In-person attendees continue to expect energizing, entertaining, and engaging events. And others expect these events to be streamable online, live, or on-demand. Bartha's expertise and capabilities make it an ideal partner for these hybrid stadium-sized events.
If you'd like to learn more about what we do at Bartha, click here. Ready to wow your conference's attendees at your next engaging event? Contact us here.