Color isn't all about the lighting.
Your presenters were on cue, your breakout sessions were impactful and your happy face video is playing in the background reminding your employees how much fun they're having reinvigorating, learning and sharing your message.
Rewind. Think back to when you first sat down at the table to develop your message, theming, venue – to put all the little pieces together. When Bartha is at that table with you, we help bring all of the pieces to life – from wayfinding signage and PowerPoint presentations to customized set pieces and lighting designs. Our team is made up of best-in-the-business rock stars who are constantly learning and imagining the most creative ways to excite your attendees and make your event powerful and colorful.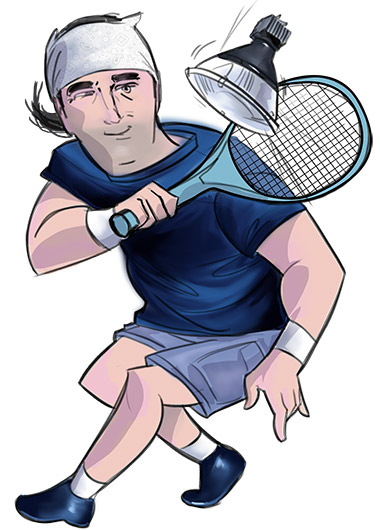 Take Adam Nickel – a Bartha lighting guru who's been on our team for almost 8 years. While he started his original career track hoping to be a high school history teacher, his journey to lighting took some serious twists and turns, including a stint as a driver for a female review and rehabbing homes on OSU's campus.
After finally ending up bartending, Adam met a local sound guy and started working on rock shows. With no experience or formal training, he learned from everyone he could and asked lots of questions. Eventually, he created the lighting department for that company. His first solo lighting job was for a Rare Earth concert at Bicentennial Park – and he says that's the moment he knew "lighting is what I need to be doing."
For Adam, lighting is all about being creative and that's what makes it exciting. He says, "Sound is more of a science, but lighting is more of an art."
Besides lighting events across the country every day, Adam is also an avid tennis player – playing off and on since he was five. From 'Tennis Tots' – yes that's a thing and it sounds adorable – to his lighting day job, Adam has picked up a lot of experience, stories and ideas along the way.
With self-taught experts like Adam and our formally trained lighting artists teaming together, we can push the boundaries of what's possible and create unique lighting elements for all types of events. Whether it's LED lights in clear balloons or custom chandeliers, we can think up a lighting solution that not only illuminates but captivates.
Of course, there's more than one way to be colorful. We'll light your event in vivid hues thoughtfully chosen and mixed to match your themes, but we also create color in other ways. Think bold graphics, eye-catching animations and video production pieces that help tell your story. There's no limit to our imaginations and making events WOW your attendees is what gets us up every morning.
We can partner with you on every aspect of your event and make sure that each moment, every lighting and audio selection and every hand-crafted scenic element sets the stage for a successful and engaging event. From the first moment we pitch our ideas to the last truck being loaded out of the venue, our goal is to deliver more than you could have imagined. Learn more about our arsenal here and let us WOW you with our A-game at your next event.